ZW7-40.5 Outdoor High-voltage Vacuum Circuit Breaker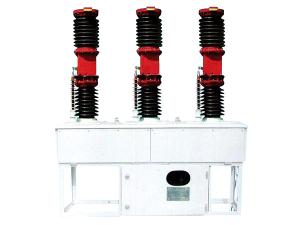 ZW7-40.5 Outdoor high-voltage vacuum circuit breaker is for alternating current of rated voltage of 40.5kV for outdoor installation, and for service frequency of 50Hz. Spring operation mechanism can be remote controlled or manual controlled for opening/closing. The design is in accordance with GB1984-89 High Voltage Circuit Breaker and IEC-56 High Voltage Circuit Breaker. ZW7-40.5 vacuum circuit breaker is mainly used for control and protection of outdoor power transmission systems of rated voltage of 35kV, as well as used for normal operation and short-circuit protection for users like distribution networks for city, country, and enterprises. The whole structure of this product is divided by two parts, the up porcelain is fitted with vacuum interrupter, and the down unit is supporting porcelain. This product is suitable for frequent operations, having the advantages of good air tightness, resistance to high temperature and pressure, no hazard of explosion and selfignition, easy installation and maintenance.
Model and Meanings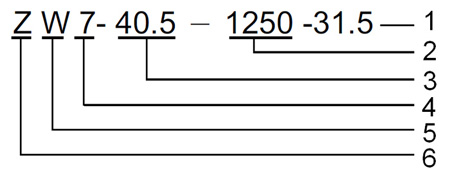 1. Rated Short-circuit breaking current (kA)
2. Rated Current (A)
3. Rated Voltage (kV)
4. Design Code
5. Outdoor Type
6. Vacuum Circuit Breaker
Main Technical Data
No.
Item
Unit
Parameter
1
Rated voltage
kV
40.5
2
Rated frequency
Hz
50
3
Rated current
A
630 1250
4
Rated Insulation level
1 min Power frequency withstand voltage
Dry
kV
95
Wet
80
Lighting impulse withstand voltage (Peak)
185
5
Rated short-circuit breaking current
kA
20 25 31.5
6
Rated short-circuit making current
50 63 85
7
Rated short time withstand current
20 25 31.5
8
Rated peak withstand Current
50 63 85
9
Rated short-circuit lasting time
S
4
10
Rated short-circuit breaking current breaking time
Times
20
11
Rated capacitor bank breaking current
A
400
12
Rated operation sequence
C-0.3s-C/O-180s-C/O
13
Full breaking time
s
0.1
14
Life expectancy on mechanical operation
Times
10000
15
Moving contact allowable abrasion thickness
mm
3
16
Weight
kg
1100
Working Conditions
Altitude: ≤ 2000m
Ambient temperature: -45℃ - +40℃
Wind speed: ≤ 35m/s
Degree of contamination: IV
Place of Installation: none chemical hazard
Earthquake strength: Level 8
Structure Description
Circuit breaker is mainly consisted by vacuum interrupter, current transformer, and transmission mechanism.
The whole structure of circuit breaker is supporting porcelain bottle, three-phase gang control, current transformer and operation mechanism that all sealed into a water proofed enclosure (Heater is installed for moisture proof). Circuit breaker can be motor or spring operated.
Circuit breaker is fitted into up porcelain bottle, the space between vacuum interrupter and porcelain bottle is filled with latest dielectric material in order to be condensation proofed. The vacuum interrupter contact opening distance and closing distance can be measured through drilled hole in the medium aluminum holder.
Exterior and Installation Dimensions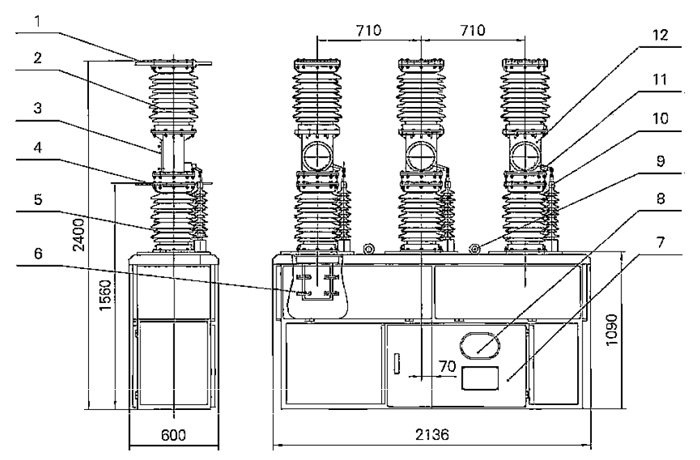 1. Upper Cable Outgoing Terminal
2. Vacuum Interrupter Porcelain Bottle
3. Hand Hole Cover
4. Lower Cable Outgoing Terminal
5. Supporting Porcelain Bottle
6. Current Transformer
7. CT17 Mechanical Enclosure
8. Viewing Window (Closing/Opening)
9. Lifting Holes
10. Insulation Tie Rob
11. Arm 12. Holder
ZW7 - 40.5/T (CT19BN) Exterior and Dimensions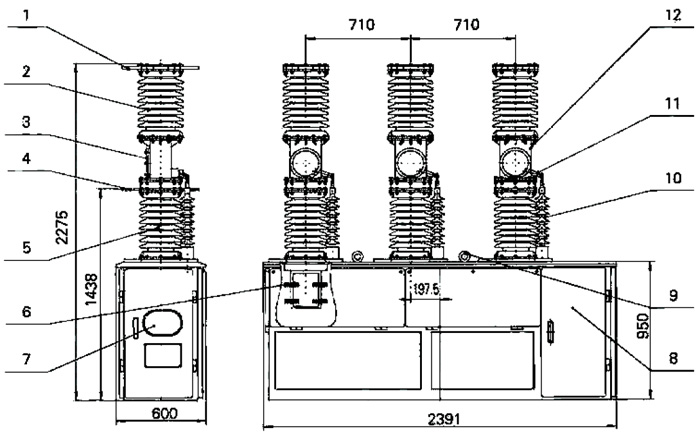 1. Upper Cable OutgoingTerminal
2. Vacuum Interrupter Porcelain Bottle
3. Hand Hole Cover
4. Lower Cable Outgoing Terminal
5. Supporting Porcelain Bottle
6. CT
7. Viewing Window (Closing/Opening)
8. CT18BN Mechanical Enclosure
9. Lifting Holes
10. Insulation Tie Rob
11. Arm
12. Holder
ZW7 - 40.5/D Exterior and Dimensions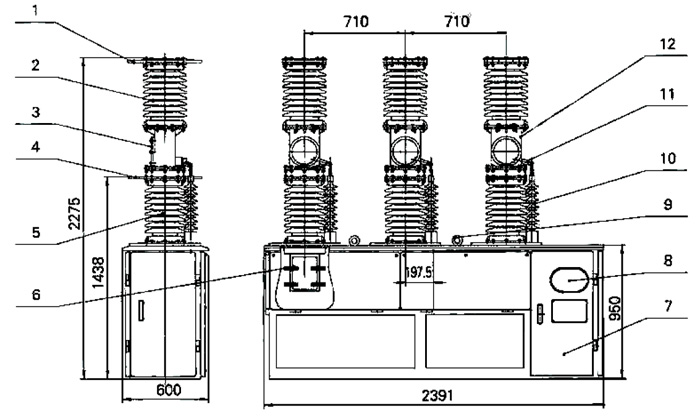 1. Upper Cable Outgoing Terminal
2. Vacuum Interrupter Porcelain Bottle
3. Hand Hole Cover
4. Lower Cable Outgoing Terminal
5. Supporting Porcelain Bottle
6. CT
7. Viewing Window (Closing/Opening)
8. CT18BN Mechanical Enclosure
9. Lifting Holes
10. Insulation Tie Rob
11. Arm
12. Holder