ZW32-15/27/38 Solid Dielectric Three-phase Vacuum Recloser
This vacuum recloser adopts pole embedded technology, encapsulated vacuum bottles for the fault interruption, epoxy resin and silicon rubber for the insulation. Magnetic actuated mechanism combined with optional spring
mechanism enable both CLOSE and TRIP operations when the battery runs out during dead line. It is rated for three-phase systems up to 38kV maximum, 800A continuous and 20kA interrupting maximum. Voltage
sensors and multiple ratio CTs are encapsulated inside each pole, providing necessary signals and reading for multiple protections and meterings, also ready for future automation realization. Complete with
SOJO SJFD2000 microprocessor recloser controller, the recloser is able to perform functions as auto reclosing and sectionalizing. The recloser also has connection interfaces compatible with controller from diverse brands.
Features of Three-phase Vacuum Recloser
Reliability
1. 10,000 times mechanical endurance
2. UV resistant solid insulation material
3. 100% factory tested for partial discharge
4. Single molded design ensure longer creepage distance Maintenance-free
1. Solid insulation material enables application under high contamination environment
2. Magnetic actuated mechanisms with few moving parts
3. Painted Stainless steel enclosure and operation shaft guarantee maximum corrosion protection
4. Flexibility and Compatibility
5. Optional spring assisted magnetic actuator enables CLOSE and TRIP manually
6. Compatible with controller or relays from other brands
7. Various selections of cable connection interfaces
Smart Grid and Automation
1. Encapsulated 3 multi-ratio current transformers
2. Encapsulated 6 voltages sensors maximum
Environmentally Friendly
1. SF6 free
2. Clean and recyclable material
Product Dimensions of Three-phase Vacuum Recloser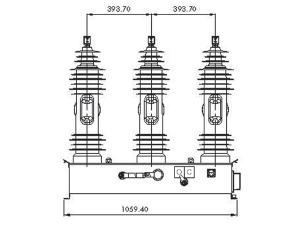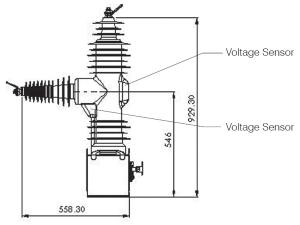 Internal Structure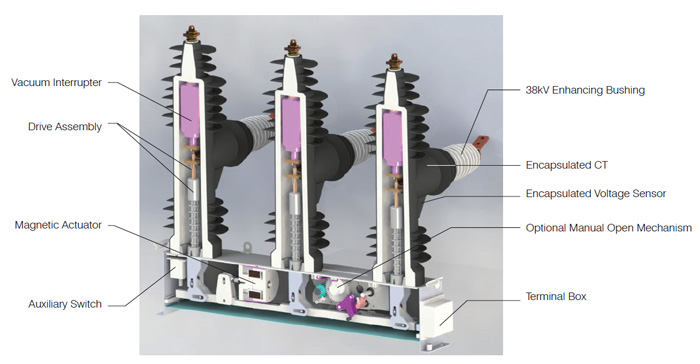 Technical Data of Three-phase Vacuum Recloser
No.
Item
Unit
Data
15.5kV
27kV
38kV
1
Rated Voltage
kV
15.5kV
27
38
2
Rated Frequency
Hz
50/60
50/60
50/60
3
Rated Current
A
630 1250
630
630 800
4
Rated Short Circuit Breaking Current
kA
20 25
20
12.5 16 20
5
Breaking Times
Time
30
30
30
6
Rated Peak Withstand Current
kA
50 63
50
50 63
7
Rated Short Time Withstand Current / Duration
kA/s
20/4 25/4
20/4
20/4 25/4
8
Rated Short-circuit Making Current (peak)
kA
50 63
50
50 63
9
Mechanism Endurance
Time
10000
10000
10000
10
1 min Power Frequency Withstand Voltage
Wet
kV
45
50
60
dry
kV
50
60
70
11
Lightning Impulse Withstand Voltage
kV
110
125
170
12
Secondary Circuit 1 min Power Frequency Voltage
V
2000
2000
2000