ZCH8-12
Medium Voltage Vacuum Recloser
The ZCH8-12 medium voltage vacuum recloser is a multi-functional recloser that comprises of vacuum circuit breaker and recloser controller. Its microcomputer protection function could realize quick-breaking, delayed quick-breaking, and over current three stage protection. The recloser has a range of practical functions including flexible setting, definite time characteristic, adjustable protection value and delay value, back up protection value with auto-switchover, and cooling load auto-delay. Three reclosing operations with any intervals can be set at the same time, while you can activate any of the reclosing settings as you want.
The ZCH8-12 medium voltage vacuum recloser can do many jobs like measuring, control, monitoring, communicating, and telecontrol. It features with high integration, flexible configuration, and user friendly interface, and can be used in both simple and complex power distribution systems. As a fundamental device, it has some basic automatic functions for the distribution system while no background system is needed. However, a background system can improve the system's stability and reliability.
Our ZCH8-12 medium voltage vacuum recloser is suitable for 10KV distribution systems in cities and rural places, oil fields, mines, industrial companies, and automatic railway system.
Model name and its meaning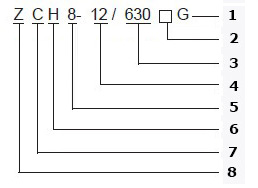 1. Disconnector
2. Rated short-circuit breaking current (kA)
3. Rated current (A)
4. Spring operating mechanism
5. Rated voltage (V)
6. Product series number
7. Outdoor type
8. Vacuum circuit breaker
Working environment
Altitude: ≤ 3000 m
Ambient temperature: -45℃~+45℃
Wind speed: ≤ 35m/s
Vibration: No frequent vibration
Pollution class: Class III according to GB/T5582-1993
The main parameters of the recloser
NO.
Item
Unit
Data
1
Rated voltage
 
kV
12
2
Rated current
 
A
400,630
3
Power frequency withstand voltage (1 min)
 
kV
42
4
Lightning impulse peak withstand voltage
 
kV
75
5
Rated short circuit breaking current
 
kA
12.5, 16, 20
6
Rated peak short circuit making current
 
kA
31.5 , 40 , 50
7
Rated peak withstand current
 
kA
31.5 , 40 , 50
8
Rated short time withstand current (4s)
 
kA
12.5 , 16 , 20
9
Rated operating sequence
 
 
Opening-0.3s-closing and opening-180s-closing and opening
10
Rated short-circuit current breaking times
 
Time
30
11
Mechanism endurance
 
Time
10000
12
Rated operating voltage (with special spring operating mechanism)
Opening coil
V
DC/AC220V/110V
Closing coil
13
Contacts total abrasion thickness allowance
 
mm
3
14
Over current trip rated current
 
A
5
15
Weight (normal type)
 
kg
160