XGN68
Fixed Metal Enclosed Switchgear
The XGN68 fixed metal enclosed switchgear is a kind of air insulated fixed type metal enclosed ring main unit. It was developed by SOJO in recent years to meet the requirements of modern RMU. Comparing to the traditional indoor high voltage complete switchboard, our XGN68 switchboard has a 40% smaller size, which is about the same as SF6 RMU. Besides, the fuse changing now is also much more simple and safe.
The XGN68 metal enclosed switch is more practical than similar products. The other features include high IP rating, convenient maintenance, and wider application range. This product is suitable for the transformer control and protection in the distribution systems for mining companies, residential areas, and high rise buildings. Additionally, it is one of the top options for constructing and upgrading the power networks both in urban and country areas.
Model name and its meaning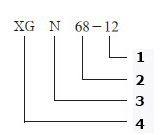 1. Voltage level
2. Design code
3. Indoor type
4. Fixed type
Technical parameter
Rated voltage: 12kV
Rated current: 630, 1250A
Rated frequency: 50Hz
Rated short time withstand current: 20kA,4s
Rated peak withstand current: 50kA
Rated power frequency withstand voltage (1 min): 42kV
Rated lightning impulse withstand voltage: 75kV
IP rating: IP3X
Technical feature
The XGN68 fixed metal enclosed switchgear is divided into two units, top unit and bottom unit. The top unit includes main switch compartment, main busbar compartment and meter compartment, while the bottom unit includes primary components compartment, incoming/outgoing cable compartment, and earthing switch. The two units are separated with s metal board.
The solid-insulation-embedded pole structure is applied to the vacuum breaker and load switch of the XGN68 fixed metal enclosed switchgear. The vacuum arc quenching compartment and the conductive terminal are sealed as poles by epoxy resin with APG technique. Thus the mechanical reliability is improved, while the contamination and condensation problems of the phase to phase and phase to ground insulators are avoided. The external insulation performance and the arc quenching compartment are also improved, and the size of the XGN68 fixed metal enclosed switchgear is reduced.
A insulated switch should be installed in the switchgear. Its status is visible through the viewing window on the top unit. The insulated switch, breaker, load switch, earthing load, and switchgear are interlocked, but can be operated individually. The operation mechanism of the XGN68 fixed metal enclosed switchgear is small spring mechanisms which has labor-saving operation stable structure. The operating mechanism and the switches are assembled and tested separately, so the adjustment and maintenance are quite convenient. The quality of the product can also be guaranteed.